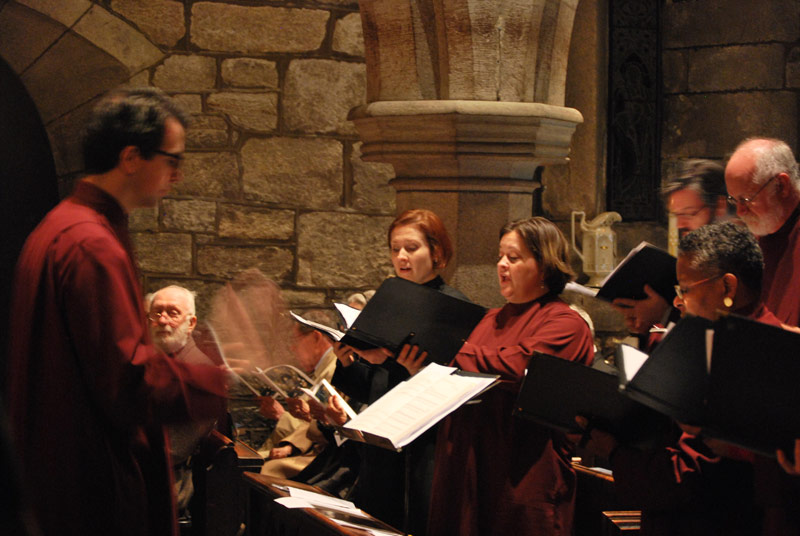 The campus of the Church of St. James the Less was an ideal venue for the annual holiday gathering of 130 people from the combined membership of the English Speaking Union (ESU) and The Society of the Sons of St. George (SSSG).
The evening kicked off with guided tours of the historic graveyard and a Lessons and Carols service at the Church of St. James the Less. Guests were provided with valet parking and were welcomed at the graveyard lych-gate by St. James School cofounder Audrey Evans, MD. The Lessons and Carols service included six lessons and six carols/hymns. The beauty of the service was a direct result of the partnership between Saint Mark's Church (Locust Street) and The Church of St. Martin-in-the-Fields (Chestnut Hill). The Rev. Sean Mullen, Rector of Saint Mark's Church, and The Rev. Jarrett Kerbel, Rector of St. Martin Church, were the presiders. Members of the choir of St. Martin-in-the-Field, under the direction of Erik Myer, provided an extraordinary evening of sacred hymns and carols.
The St. James School student choir led "Soon and Very Soon" and "Song of Mary." The service concluded with a special recognition of George Tyndall, SSSG, for his leadership in developing and executing the idea to host such an event to benefit the work of St. James School.
Head of School David Kasievich, welcomed guests, while student representatives Ajia and Ezekiel awarded Mr. Tyndall with an honorary membership to their class of 2015.
After the final blessing, guests were led to the reception at the school by the sounds of church bells and a bagpipe. Once inside the school, guests were delighted to find a dining room and classrooms transformed into a festive holiday party, and enjoyed the tasty selection of cheeses and other gourmet selections from DiBruno Brothers, the lead event sponsor.
The evening culminated with the closing of the silent auction. Over 30 exciting, beautiful and meaningful auction items were available to bid on, and all proceeds from the auction will directly benefit the students at St. James School.
Watch the Advent Lessons & Carols Full Service Below