Our very own Dr. Audrey Evans — Co-Founder of St. James School — has been recognized by Philadelphia Magazine as the 2013 Trailblazer in their 9th annual year for the award. Congratulations, Audrey — we would not be here without you!
From Philadelphia Magazine's February 2013 Issue:
Dr. Audrey E. Evans is a woman of firsts. Part activist and part caretaker to all who encounter her, she is a unique soul who leaves an indelible mark on everyone and everything in her life's path — blazing a trail with her trademark compassion.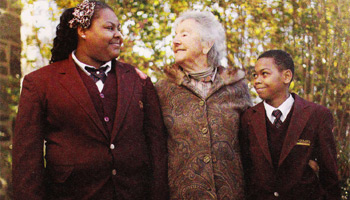 As a child growing up in York, England, Audrey Evans never left the house without her homemade first aid kit — early evidence of her resolute devotion to medicine. Upon completing medical school, Dr. Evans completed her residency at the Royal Infirmary in Scotland where, as the only woman in her third year of residency, she was forced to eat separately from her male counterparts. A Fulbright Fellowship followed, eventually bringing her to the United States.
Recruited to The Children's Hospital of Philadelphia (CHOP) by former Surgeon General Dr. C. Everett Koop, Dr. Evans was named the hospital's first Chief of Oncology in 1969 — one of only a few women division chiefs at the time. Tasked with creating the hospital's first oncology service, she developed the Evans Staging System for neuroblastoma (the most common cancerous tumor in infants) and co-founded the National Wilms Tumor Study, working with nationally renowned neurosurgeons and radiation therapists. Dr. Evans then formed the Advances in Neuroblastoma Research Conference — the first of its kind — which now convenes biennially in the United States and Europe, fundamental to the establishment of the Children's Cancer Research Center at CHOP.
During her early days at CHOP, Dr. Evans recognized the need for a supportive place for families to stay during their child's treatment. The idea was rooted in the Total Care philosophy, an all-encompassing approach to treating seriously ill children and their families that Dr. Evans was introduced to during her time at Boston Children's Hospital. In 1974, she turned thought into action. Her vision, paired with a bold request for funding directed at Jim Murray, then General Manager of the Philadelphia Eagles, resulted in the opening of the Philadelphia Ronald McDonald House. The fully-staffed house provided clinical support, financial assistance, and a home away from home for families battling childhood disease. Today, 322 houses exist worldwide. In 1986, Dr. Evans took her vision one step further and founded Ronald McDonald Camp, a week-long oncology camp where children facing cancer can simply enjoy being kids. In keeping with the Total Care approach, brothers and sisters, who are often overlooked, are invited to join their sick sibling during camp.
Dr. Evans unparalleled 40 year career with CHOP marked an era of compassionate care that yielded landmark results. Today, approximately 75% of children with neuroblastoma survive — an astounding feat considering that at one time the disease was fatal for most of the children diagnosed. Her holistic approach to patient care has revitalized the landscape of pediatric oncology here in Philadelphia and abroad.
Dr. Evans retired from CHOP in 2009 with little fanfare, but did not stay idle for long. Instead, she again turned her focus to improving the lives of children, this time through education.
When Vestry Members of St. Mark's Episcopal Church in Philadelphia (her home parish) sought to open a middle school for under-served youth, Dr. Evans recruited supporters and secured much-needed funding. In September of 2011, St. James School opened its doors in the Allegheny West section of Philadelphia.
St. James School prepares its students for high school graduation and beyond. As co-founder and Board Member, Dr. Evans has woven the Total Care philosophy throughout the school's educational model. For those lucky few, the school is an educational oasis — providing care for their minds, bodies, and souls.
"Once the kids belong to us, we never let them go," says Dr. Evans.
Dr. Evans' numerous accomplishments are evidence of a life dedicated to the care and benefit of others.
"Because of Dr. Evans, fewer children die of childhood cancer. Fewer families have to face their child's illness alone. And now, fewer children will suffer from educational inequalities," says Susan Campbell, Executive Director of The Philadelphia Ronald McDonald House.
Dr. Evans has served as an inspiration for generations of colleagues, patients, families, and students — demonstrating that compassion can, indeed, put ideas into action. Perseverance, ambition, and conviction are the building blocks of her many successes.
"I'm grateful for being given the opportunities during my life to do so many things," says Dr. Evans.
Philadelphia — and the world — is lucky to have her.
---
St. James School extends its sincere appreciation to photographer Gene Smirnov whose images of Dr. Evans, taken on the grounds of St. James School, grace the pages of the February issue of Philadelphia Magazine. See more of Gene's work online at genesmirnov.com. The article originally appeared as a special advertising section in the February 2013 issue of Philadelphia magazine.