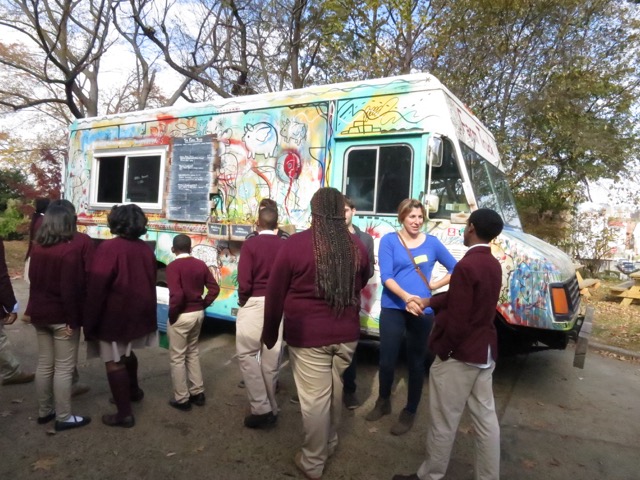 When art teacher Deena Ball brought her niece and nephew–visiting Philadelphia from Vermont–to a night market with food trucks, she didn't give a second thought to these mainstays in the area. She was so inspired by their excited response to these colorfully decorated vehicles that she decided to find a way for St. James School students to give it a try in class.
Studying public art as well as art with messages and advertising, 8th grade students were given that opportunity to create a model food truck with the task of attracting hungry customers. The food truck art project was student-centered in that all decisions about the design and basic problem solving were done by the student. They initially brainstormed to determine which type of product they would sell then worked to apply the message and design. In the final steps they created a paper model and a final foam core truck.
The student's food truck model designs were judged on campus with prizes awarded for various categories. Judges included Head of School David Kasievich, staff from the school's Advancement office and the school chef, along with three members of the food truck community. The students were also treated to a visit by The Farm Truck and learned about what it would be like to operate a food truck business. They even got to go inside and see the super efficient kitchen.
Winning Artists
First Prize Cordell Patterson
Second Prize Jamaal Oliver
Third Prize Tyrena Husbands
Honorable Mention Ainyae Holmes