On January 15 Ronald McDonald visited to prepare students for Philadelphia 76ers Read for Ronald Program, the second year St. James School is taking part in the program (led by the efforts of ELA teacher Ms. Carroll).
Through this engaging initiative, students count the number of minutes they read throughout the month of February. When the minutes are tallied, a generous donor will make a gift to Philadelphia Ronald McDonald House (with 10% going back to the school) in recognition of the students' time spent reading.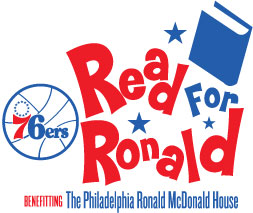 In 2014, the school's winner read for 3,000 minutes and earned a visit to Philadelphia Ronald McDonald House — founded by our very own St. James School Board Member and Co-Founder Dr. Audrey Evans. (Reading for Ronald really motivates students to make Dr. Evans proud!)
In addition to this, the top three 2014 readers attended a Philadlephia 76ers game.
During his visit to kick off this year's reading challenge, Ronald McDonal entertained students and staff during a 40 minute performance which included balancing tricks, jokes, flips and book talk. Ronald also reminded students about the work and importance of the Ronald McDonald House. The students not only learned, but laughed and left excited for the challenge to begin.