The musical and artistic talents of the 5th and 6th grade students at St. James School were on display for parents, family members and supporters. The buildup to the 2nd Annual Art & Music Showcase began months ago in September at the start of the school year.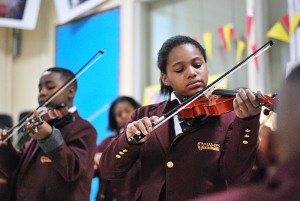 The rigorous academic curricula of math, science, history and language arts are not just supplemented with music and art, musical training and art creation are integral aspects to holistic approach to education. Anchored by a robust 6 hours of instruction per week, the music program features Suzuki violin training and musical theory with lessons enhanced through iPad technology.
Art instruction supports not only the creation of art objects (paintings, sculptures, ceramic and fired-clay pieces), but also includes a conceptual understanding of artistic techniques like museum field trips to learn about the masters.
Both programs are bolstered by numerous special programs and projects that include instruction in photography, individual music lessons, quilt making, and choral singing, just to name a few.
The Arts Are Alive! … at St. James School in North Philadelphia!