The History of St. James School, 1846 – Present
A Neighborhood Rising
1846: An idyllic English countryside church, the Historic Church of St. James the Less, opens in the lush "Falls of the Schuylkill" neighborhood (now called Allegheny West.)
An Industrial Hub
1950s and 60's: Allegheny West becomes a major industrial hub in Philadelphia, with businesses like Pep Boys, The Bud Company, and Penn Fishing Reels creating thousands of jobs in the neighborhood.
An Uncertain Future
1970 – 2000: As companies fail and jobs are lost, an uncertain future unfolds for what was once a thriving economic hub. Driven by job losses and racial tension, thousands of mostly white residents abandon the neighborhood and move to the suburbs. No other neighborhood in the city of Philadelphia experiences such a severe loss of population during this time.
Property Abandoned
2006: The St. James the Less congregation leaves the Episcopal church, and the property is left vacant. With its gates now locked, the 6-acre campus becomes what neighbors call "the darkest spot of the neighborhood." 
The Future Begins to Brighten
2008: The Vestry and people of Saint Mark's Church (Locust Street) adopts the vacant property, intending to make it a resource for the neighborhood and perhaps – some day – start a school in the parish hall.
The Vision Takes Shape
2009 – 2010: Two visionary and tenacious co-founders, the The Rev. Sean Mullen and parishioner Dr. Audrey Evans, get to work, dreaming big of how the property can be used. They talk to neighbors and families and conduct an extensive feasibility study. They quickly learn Allegheny West is in need of a high-quality neighborhood school. They set plans in motion to open a tuition-free Episcopal school – the only one of its kind in Philadelphia
They recruit Dave Kasievich to serve as the founding Executive Director, and begin raising funds. The three work to enlist advisors and board members and choose the NativityMiguel faith-based school model.
City Camp at St. James
2010: Andrew Kellner, The Rev. Sean Mullen, and many volunteers from Saint Mark's Church (Locust Street) found City Camp, a summer camp for neighborhood children.
After School at St. James
2010: William Penn Charter School partners to open an after school program for rising 3rd, 4th and 5th grade children for the soon-to-be-opened St. James School.
St. James School Opens Its Doors
2011: After a year of operating programming for the neighborhood, raising funds, and recruiting school leaders and students, St. James School opens its doors for the first time! In year 1, the school served 16 5th-graders.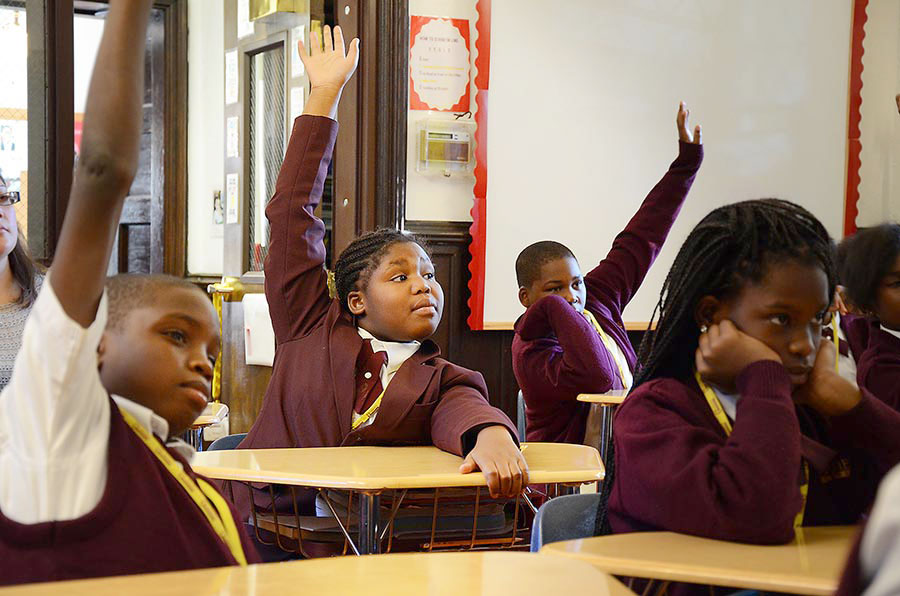 Growing to a Full Middle School
2011 – 2015: St. James School adds a grade each year, growing to serve 69 students in grades 5-8. It continues to expand and improve its robust programming each year: adding instrumental education, an off-campus summer camp experience, a full-time chef and more.
Graduating to the Next Chapter
2015: After four years of challenging academics in a nurturing faith-based school community, the founding class graduates from middle school to high school. Graduates go on to attend schools such as Hallahan Catholic High School, Cristo Rey Philadelphia High School, and William Penn Charter School.
Growing Down to 4th Grade
2018: St. James School adds 4th grade, an opportunity to engage students and families at an earlier age, better preparing students for success in high school and beyond.  
What's Happening Now? College and Beyond.
2019: St. James School oldest graduates (the Class of 2015) graduate from high school and start their post-secondary careers, including two-year and four-year colleges and a range of options.